"There is no love sincere than the love of food" – George Bernard Shaw.
Judging by the amazing variety we have in the world, we'd say he was right.
We have put together our top favourites across the globe that were ever created. For now, feast your eyes and control your drooling, as we reveal some of the tastiest dishes gifted to the world that may help you make travel plans.
Fries In Belgium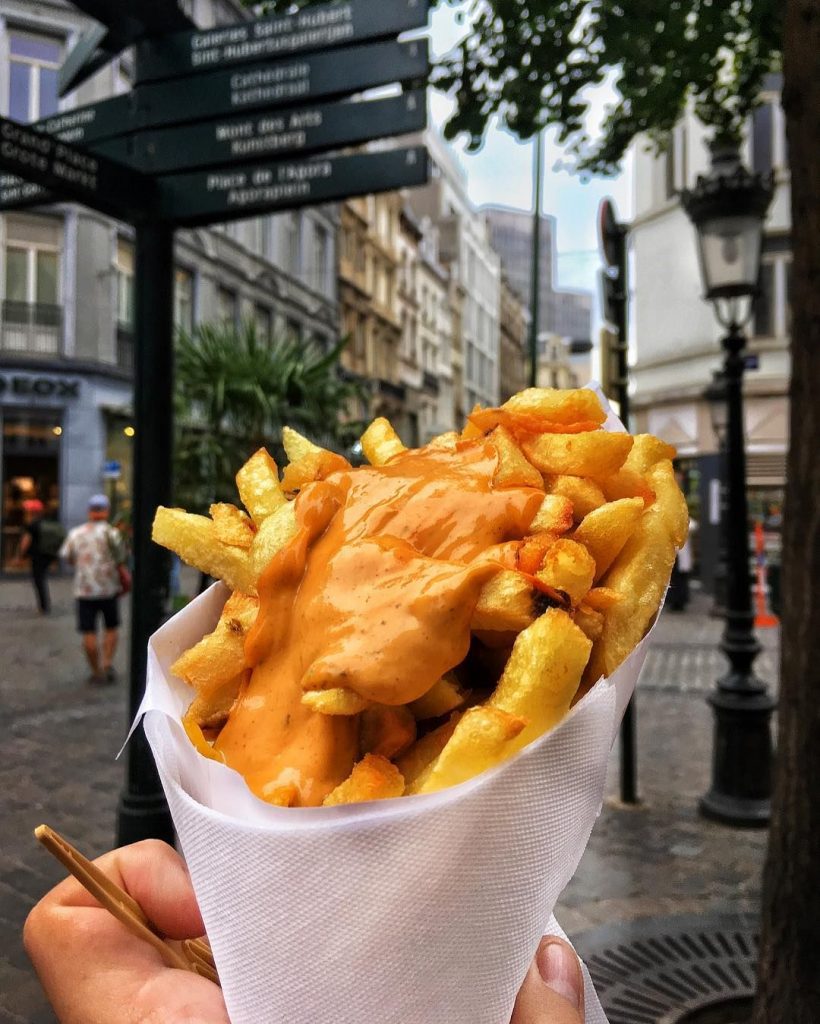 Don't be fooled by the name 'French fries'. This global dish was invented by the Belgians. American soldiers stationed in Belgium were first introduced to French fries during World War I. As the official language of the Belgian army was French, soldiers nicknamed the delicious fried potatoes "French fries". Seems like we have been giving credit to the wrong country. You can visit any city or town in Belgium and order fries and each one of them will be just as good. Have it with a bit of traditional mayonnaise, ketchup or mustard and you have got yourselves a piece of heaven!
Best places : Friland – Brussels, Maison Antoine – Brussels
2. Macarons in France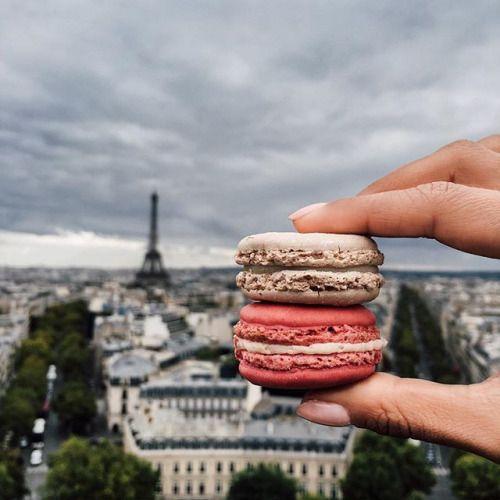 A delicious confection made up of two flat almond based cookies sandwiching a decadent filling like a ganache or jam. They come in a wide variety of flavours but the raspberry, pistachio and vanilla are the popular ones. A macaron is the perfect example of the French pastry obsession and it a must have in Paris. Club that with a cup of French coffee and you have the ultimate food experience.
Best macarons in France : Carette – Paris, Laudere – Paris
3. Churros and Hot Chocolate in Spain
Crispy, deep fried and sugary goodness are a few words to describe this delectable dessert. Dusted with a bit of cinnamon and dipped in creamy hot chocolate is how the Spaniards love to eat their favorite dessert. It may not be great for your weight but it is the ultimate soul food.
Best places in Spain : San Gines – Madrid, Churreria Laientana – Barcelona
4. Pad Thai in Thailand
Pad Thai is Thailand's national dish. An intricate combination of sweet, sour and salty, this dish usually consists of rice, noodles, tofu, vegetables, bean sprouts, eggs and meat. The contrast of textures is an explosion of flavours in your mouth. Pair it with a cold Chang beer for an authentic Thai experience.
Best places : Thip Samai – Bangkok, Ban Phadthai – Bangkok
5. Pizza Margherita in Italy
Named after Queen Margherita of Savoy, the Pizza Margherita has won hearts around the world. With only three toppings of tomatoes, cheese and basil, this pizza is a testament to the saying – Simple things in life are the best! When millions of tourists' flock to Naples and wait for hours in line to grab a slice of this coveted pizza – trust us when we say it is worth the wait. The Pizza Margherita is a symbol of traditional Italian flavours, ingredients and technique.
Best places : L'Antica Pizzeria Da Michele – Naples, Pizzeria Gino Sorbillo – Naples
6. Paella in Spain
Paella is probably Spain's most iconic dishes and synonymous with Spanish cuisine. It's hard to see a big pan of paella and not feel hungry instantly! With a combination of mouth- watering toppings like juicy prawns, chicken, rabbit, veggies, etc. and the warm saffron rice – it is what deliciousness looks like! The toppings vary from region to region in Spain and trust us each variation is just as awesome. Enjoyed on a big pan with wooden spoons, red wine and lively company, Paella is an experience for all the senses.
Best places : Restaurante Levante-Valencia, El Caldero-Madrid, Xiringuito Escriba- Barcelona
7. Crepes in France
One of the most famous dishes of France, crepes are thin pancakes that have a wonderfully soft and tender texture. Like most food in France, they are just as rich in tradition as they are in taste. What makes it even better is that you can fill or top them up with just about anything. From sweet options like sugar, cinnamon, Nutella, jam or bananas to savoury ones like eggs, cheese, meat, etc., a crepe is the ultimate comfort food.
Best places : La Creperie de Josselin – Paris, Framboise crepes – Paris
8. Poutine in Canada
The ultimate dish to try when driving through the picturesque roads of Canada has to be poutine. It is surprising how a dish that comprises of only 3 ingredients – potato fries, cheese curds and a thick gravy, can be bring so much happiness and bliss. Although it originated in Quebec, poutine has now become the national dish of Canada and its representation in world cuisine. Dig into a bowl of warm, cheesy poutine and we are certain it will be love at first taste for you as well!
Best places: Fritz European Fry House- Vancouver, Nom Nom Nom – Toronto
9. Custard Tarts in Portugal
For all the sweet tooths out there, the local custard tart a.k.a pastel de nata in Lisbon is a must have. Creamy and sweet on the inside and crispy and flaky on the outside, this tart is Portugal's best kept secret. The best part about these custard tarts is that they fit perfectly in the palm of your hand and drip with creamy deliciousness.
Best places: Pasteis de Belem – Lisbon, Manteigaria – Lisbon
10. Pretzel in Germany
Considered as an iconic symbol of Germany, pretzels is a favourite street snack for any festival, holiday and Christmas markets. German pretzels come in both sweet and savoury versions. For a truly authentic German experience enjoy them as a warm snack with butter or with bratwurst sausages and a chilled German beer.
Best places: Alpenstuck Backerei – Berlin, Brezel Bar- Berlin
11. Pho in Vietnam
Vietnam's national dish, street food, comfort food- Pho is not just a noodle soup it is a way of life. Traditionally it is made with chicken or beef broth and served with herbs and spices, noodles, meat and crunchy sprouts. Although it is classified as soup, it is served as a main course in Vietnam. Its complex and unique flavours along with its simplicity, is what make this hearty soup so popular and beloved throughout the country.
Best places: Pho Thin- Hanoi, Pho Quynh-Ho Chi Minh city.
12. Baklava in Turkey
This remarkable Turkish dessert is made of layers of thin phyllo pastry, filled with chopped nuts and doused in heavenly syrup. It is a dessert that spans many including Turkish, Middle East, Lebanese and Eastern Europe. With literally thousands of combinations of pistachios, walnuts or almonds with rose water or orange blossom syrup, this dish is best enjoyed with your loved ones which makes it even more special and delicious.
Best places: Hafiz Mustafa – Istanbul, Hamdi Restaurant – Istanbul
13. Fish and Chips in England
There is nothing more iconically British than the classic Fish and Chips. This widely loved national comfort food consists of freshly fried fish with a flaky crust and some good old fried potatoes. It also comes with numerous sides like curry sauce, ketchup, mayonnaise, peas, vinegar, etc. Grab a bag of hot fish and chips from numerous chippies (fish and chips shops) scattered across the country with a chilled beer and you have found yourself a happy happy place!
Best places: Poppies Fish and chips – London, Golden Union Fish Bar- Westminster
14. Sushi in Japan
No other dish represents Japan better than Sushi. There are many varieties in sushi but the rolled sushi or makizusushi is the most popular one. A yummy combination of dried seaweed, rice and meat or vegetables, its traditional accompaniments include pickled ginger, wasabi and the traditional Japanese soy sauce. The ideal way to enjoy sushi is when it is freshly prepared by a sushi master in traditional Japanese restaurants and clubbed with sake (Japanese rice wine).
Best places: Sukiyabashi Jiro – Tokyo, Sushi Tokami – Tokyo
15. Falafel in Israel
Even though it is said to have originated in Palentine these deep fried chickpea fritters are extremely popular throughout Israel. Falafel are most commonly enjoyed in pita or lafa flatbread, topped with fresh or pickled vegetables, and coated either in hummus paste, tahini dip, or a zesty, garlic-flavored yogurt sauce depending on your choice. They are an extremely popular street food and a must have for sure.
Best places: HaKosem in Tel Aviv, Barbar in Beirut
16. Kimchi in South Korea
Koreans are credited with making pickled vegetables interesting and tasty. A classic starter or a side dish, Kimchi is best served with Bulgogi or mandu guk (dumpling soup). Seasons also play a role in the flavors of kimchi – refreshing cucumber kimchi is popular in spring and summer, while winter kimchis may contain radish and mustard leaves.
A staple of any Korean meal, the dish is so beloved that the locals shout "kimchi!" when their picture is taken, in the same manner that Americans shout "cheese!"
Best places: Tosokchon – Seoul, Myongdong Kyoja – Seoul
17. Bunny Chow in South Africa
Rest assured there are no woodland creatures involved in this dish but the name is just intriguing. The term bunny is another variation from the word "Bania", an Indian class of traders who sold this tasty street food and made it almost like a staple in South Africa. This "unique sandwich" is a combination of meat, chickpeas, various spices and potatoes served in a hollow bread. It is the perfect comfort food on a cold winters night and truly exemplifies the fusion of South African food. For all the spice and carb lovers out there – this is the ultimate street food to try!
Best places : Impulse by the Sea – Durban, The Haas Collective – Cape Town
18. Cheeseburger in U.S.A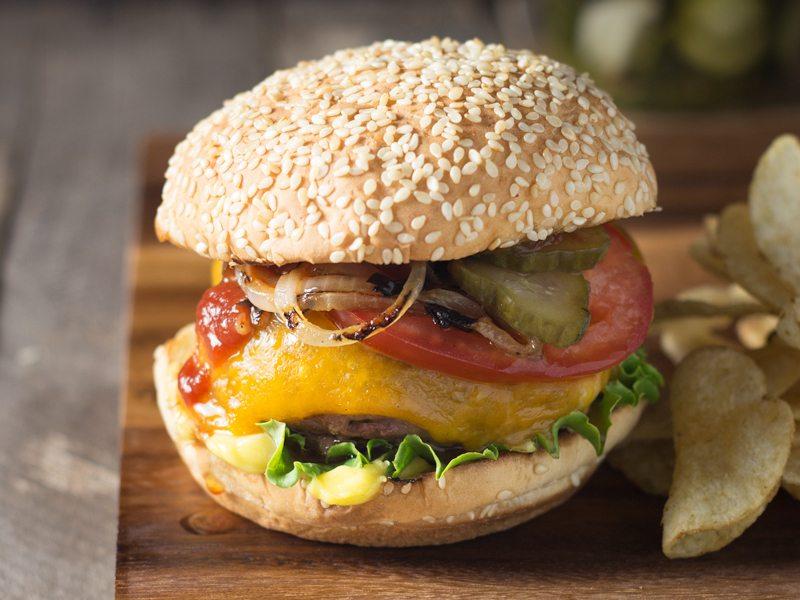 A cheeseburger is probably synonymous with the U.S.A and we don't blame the Americans for loving this oozy- gooey burger. The layers of meat patty, tomatoes, lettuce, onions and pickles coated with mayonnaise, cheese and ketchup create the perfect bite and feel like a trip to heaven! When in the U.S.A you must grab yourself a bite of this amazing creation.
Best places : J.G. Melon – Manhattan, Zuni Café – San Franciso
19. Nasi Goreng in Indonesia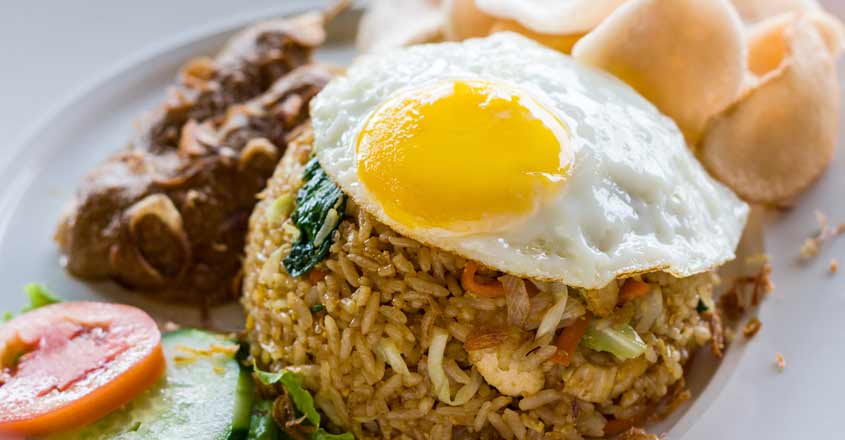 It's hard to believe that a dish created with leftovers can taste so amazing! Nasi Goreng is an Indonesian style fried rice loaded with meat, vegetables, sweet and savoury flavours and served with a perfectly fried egg and sambal (optional). This style of revamped rice is extremely popular throughout Indonesia and the best accompaniment for this steaming hot dish is a chilled Bintang beer.
Best places: Café Wayan – Ubud(Bali), Nasi Goreng Mafia – Jakarta
20. Stroopwafel in the Netherlands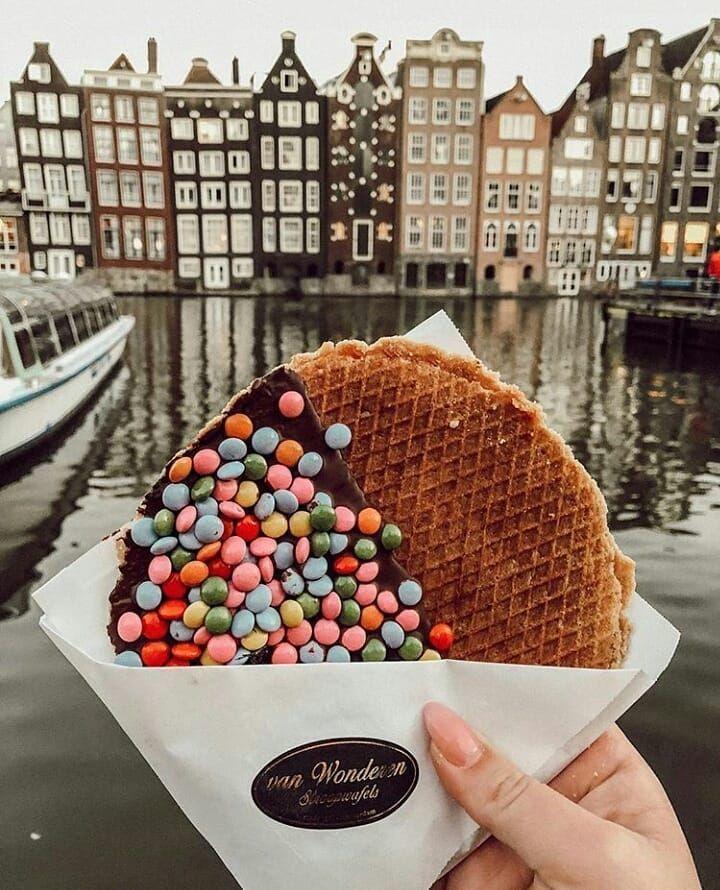 Visit any market in the Netherlands and the heavenly smell of stroopwafels will greet you first. You will be led by the nose to a stand that makes this local delicacy that is loved by the tourists and locals alike. It's hard not to salivate after looking at this thin waffle filled with caramel. They taste best when they are freshly baked until golden and crisp with a melting caramel centre and are perfect combination with a steaming hot cup of coffee!
Best places : Lanskroon – Amsterdam, Original Stroopwafel – Amsterdam
So which dishes made you drool? 🙂