For most travellers, Thailand is about white sand beaches, azure blue waters, shopping and an upbeat nightlife. Look beyond this narrow prism and you can discover offbeat places which prove that the "Land of Smiles" is a one of the jewels of South East Asia.
Here is our list of top 7 hidden gems in Thailand which are so refreshing they are guaranteed to surprise and delight you.
Khao Sok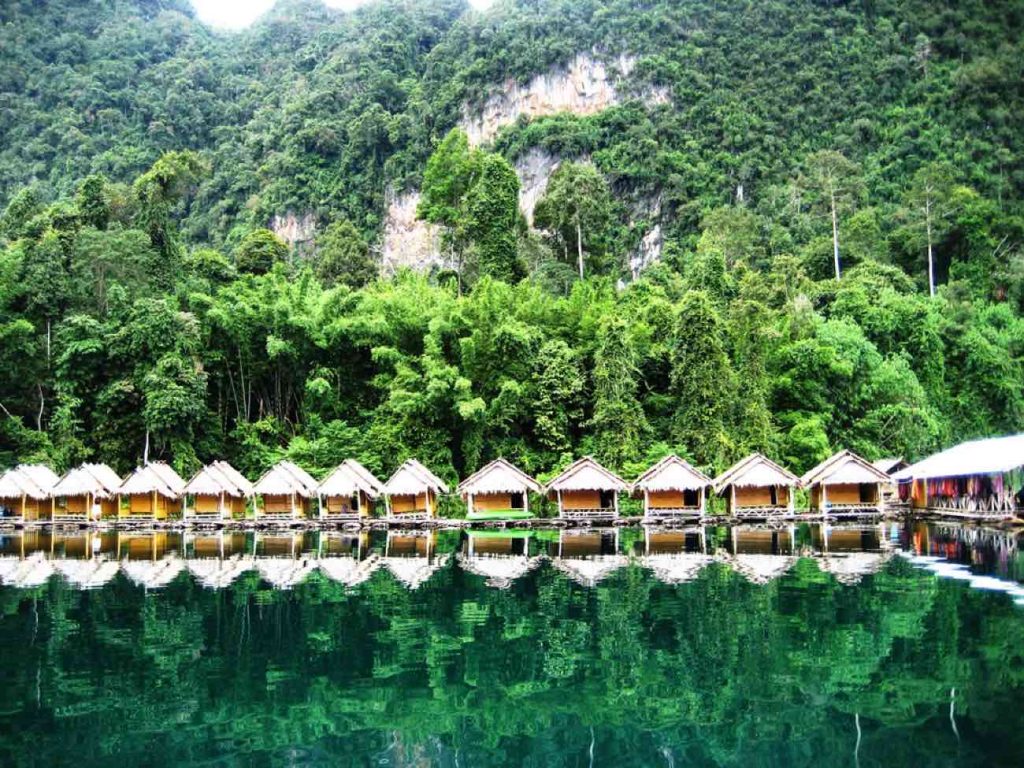 Khao Sok National park has a very diverse ecosystem. Home to a rain forest older than the Amazon, Khao Sok has majestic limestone mountains, emerald coloured lakes, enchanting caves and more. It is also home to the gibbon, hornbills and langurs – sightings of which aren't rare when you take a boat ride into the deep evergreen forest. The park is also famous for the eco-friendly floating huts in the lap of nature where you can indulge in activities like kayaking, tubing, swimming, etc.
Top things to do: Boating, caving and kayaking
How to get there: Take a flight to Surat Thani airport. From there it is about a 2 hour drive to Khao Sok.
2. Sukho Thai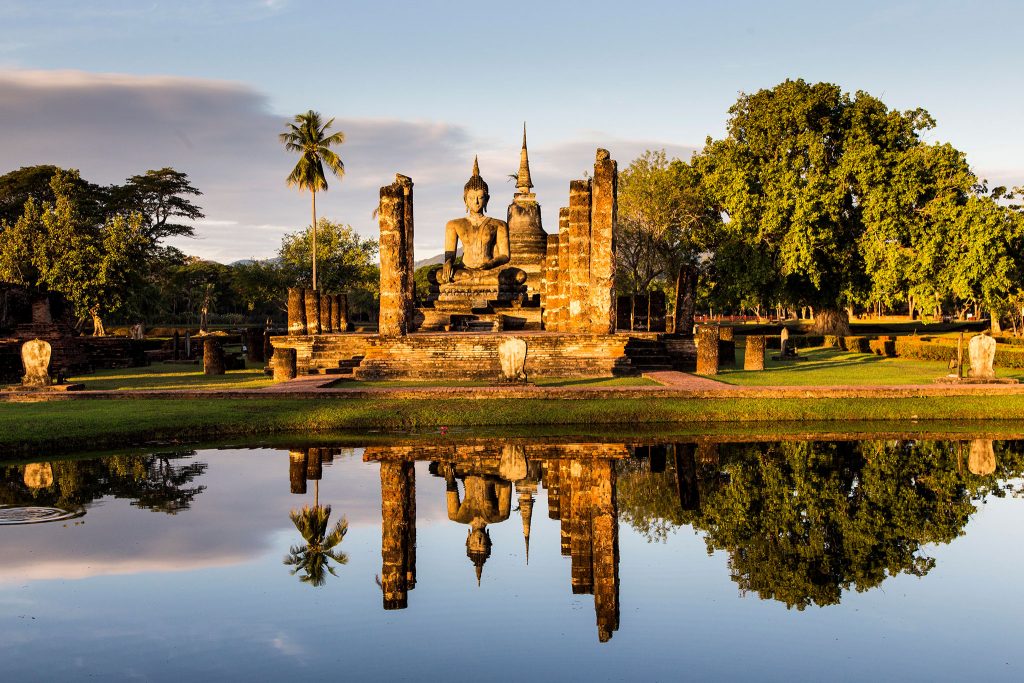 It was one of Thailand's ancient capitals and boasts of glorious ruins – perfect for history buffs and photography enthusiasts. The old city of Sukhothai is a UNESCO world heritage site and the ruins still stand proud despite enduring centuries of battle and exposure to the environment. Impressive pagodas, Buddha images, crumbling walls and soaring columns are some of the things you find here. Lotus filled ponds complete the picture and locals provide tremendous information of the city's grand past. Wat Mahatat, Wat Si Chum, and Wat Sra Sire just a few sites to add to your list.
Top things to do: Sukho Thai historical park, night markets and Wat Mahatat
How to get there: There are frequent buses and trains from Bangkok and Chiang Mai. The journey can take about 7 hours from Bangkok and 5 hours from Chiang Mai.
3. Kanchanaburi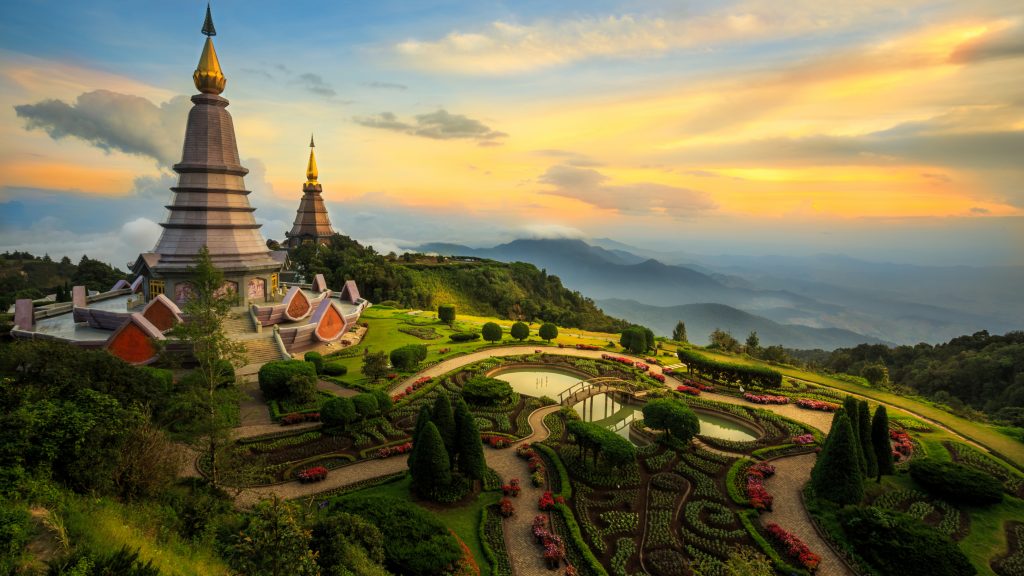 Located along the Burmese border in the west of Thailand, Kanchanburi has a combination of natural and historic attractions. The "bridge over the River Kwai" is the most famous and you can take a ride on the Death railway to appreciate the stunning views and pay homage to the people who lost their lives during its construction. It is also home to the stunning Erawan National park – containing the multi – tiered Erawan falls and Sai Yok National park which are great for small picnic along smaller falls. Get off the beaten track and stay at the eco – friendly floating huts that offer a range of variety from budget to luxury. With ensuite bathrooms, peace and tranquillity, gorgeous views and lip smacking food these floating huts are a must in Kanchanaburi.
Top things to do: Erawan National Park, Death Railway, Hell fire pass, River kwai
How to get there: Take a train/bus from Bangkok to Kanchanaburi. Direct trains take about 2.5 hours.
4. Chiang Mai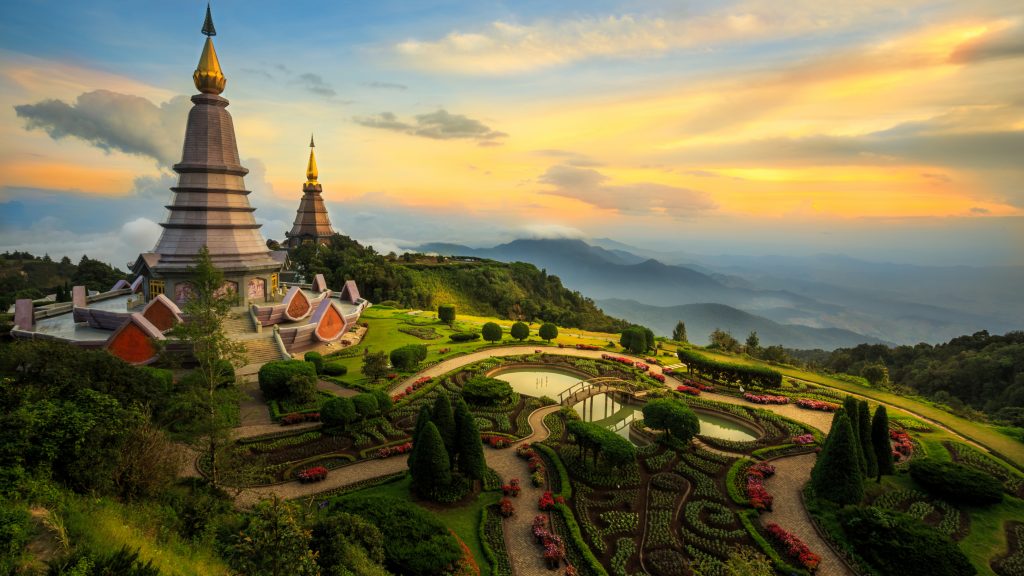 Often referred to as the Northern capital, Chiang Mai is the perfect blend of culture and nature. An adventurous bike ride to Doi Inthanon – the highest point of Thailand is our favourite activity. You also get to meet the ethnic hill tribes, try delicious local fruits (there are great picnic spots nearby) and tour numerous stunning waterfalls. Also visit Doi Suthep – which overlooks the mountains to see worship rituals and stunning architecture. Night life in Chiang Mai is low key but there are plenty of bars, cafes to hang out in and night markets are a haven for food lovers where vendors sell all kinds of treats like Pad Thai, fried bananas, chicken satay, samosas and fresh fruit shakes at affordable prices.
Things to do: Doi Inthanon, Doi Suthep, Night markets
How to get there: There are plenty of flights between Bangkok and Chiang Mai. Buses are a cheaper option but take about 12 hours from Bangkok to Chiang Mai.
5. Chiang Rai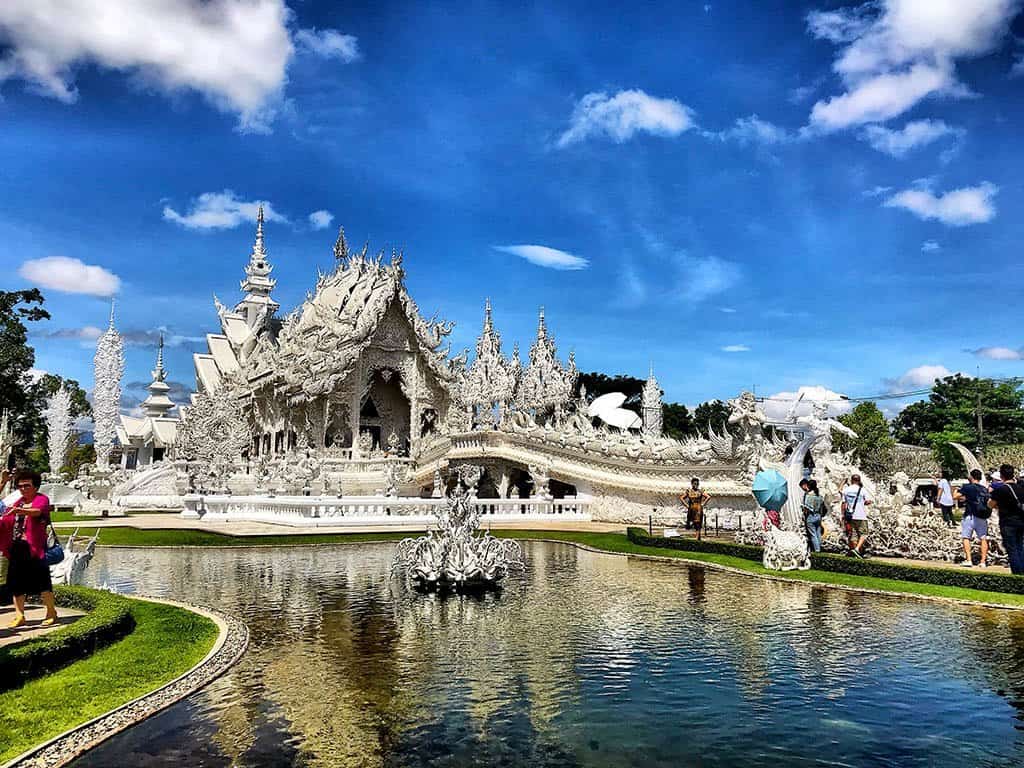 Often overshadowed by its neighbor Chiang Mai, Chiang Rai in North Thailand shares borders with Laos and Myanmar. A visit to the Golden triangle takes you to a geographical wonder – a point where the 3 countries meet. Visit the Karen long neck village tribe for an exotic experience and interact with the locals. Chiang Rai is also home to one of the most distinctive temples – The Wat Rong Khun a.k.a the White temple. It is an unconventional combination of Buddhist temple and art exhibit. The White Temple is famous for its intricate details as well as some eccentric design elements such as the Bridge of the Cycle of Rebirth, the Gate of Heaven, the Ubosot and the Golden Building. Once you have had your fill of nature and culture head to the local cafes for some juicy burgers and organic tea.
Things to do: Golden Triangle, Wat Rong Khun
How to get there: It is a 3 hour bus ride from Chiang Mai. You can also hire bikes and drive down to Chiang Rai from Chiang Mai.
6. Pai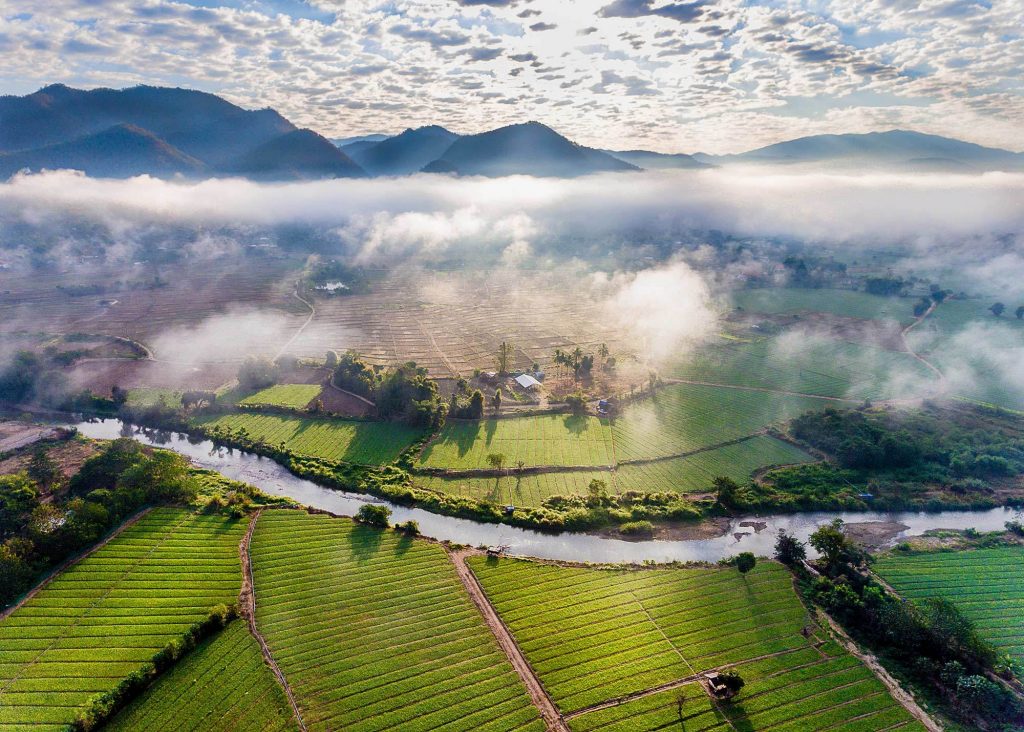 Arguably, one of the best places of Northern Thailand, Pai is marked by rugged and beautiful terrain. It is extremely popular for backpackers and has the reputation for being like an island in the mountains. Our recommended activities include the hot springs, waterfalls, white water rafting, and tubing along the river. An absolute must do is the Pai Canyon (Thailand's answer to the Grand Canyon) from some epic views and fun hikes. Watching the sunset with a beer is truly a magical experience. Pai has infamous nightlife with some amazing bars and clubs to party the night away. The walking street comes alive every night with shops selling sushi, Indian food, barbecues, smoothies and deep fried goodies!
Things to do: Pai Canyon, Mo Paeng Falls, rafting and tubing
How to get there: Frequent buses are available from Chiang Mai and take about 3 hours to get there
7. Koh Samui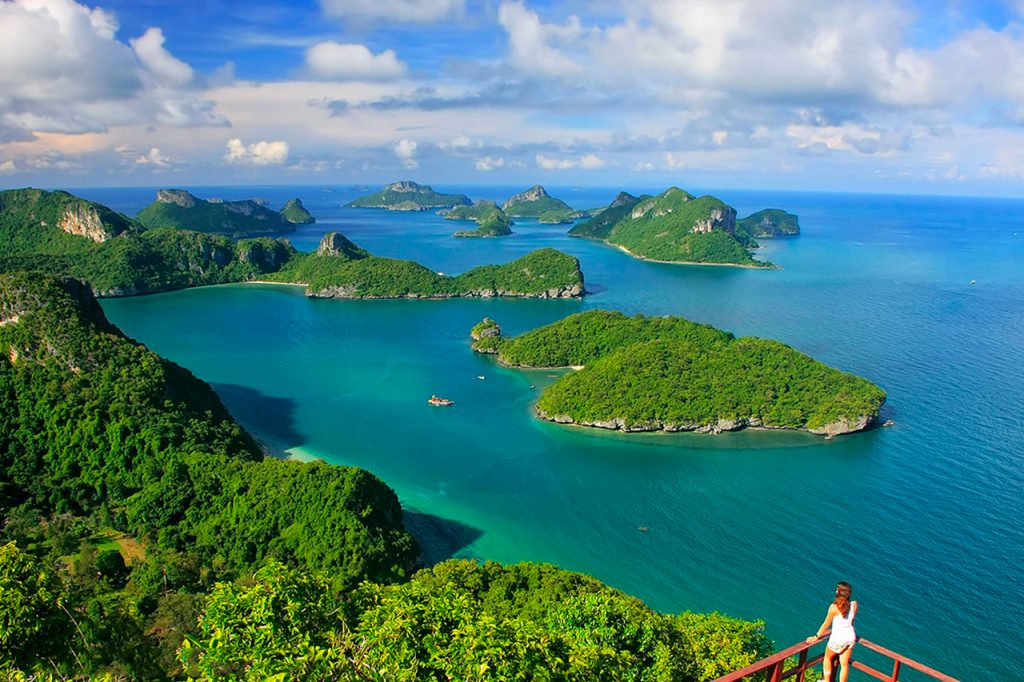 Although it has gained popularity in the past couple of years, Koh Samui is still are go to in contrast to the conventional Krabi or Phuket. It appeals to everyone from backpackers to solo travellers. A must at Koh Samui is a visit to the Ang Thong Marine National park – an archipelago of 42 islands in the Gulf of Thailand. It features towering limestone mountains, white-sand beaches, waterfalls, hidden lakes, stunning views, fun hikes and a rich biodiversity. Snorkelling, sea kayaking, hiking or simply relaxing are the many activities to enjoy at Ang Thong. Beautiful beaches, like Chaweng, surround the island. One of the island's more unusual spots include a temple with a mummified monk and neighbouring rock formations that look like male and female genitalia! Koh Samui boasts many high-class spas, golf courses, shops and cafes. You can also take a ferry to the neighbouring island of Koh Pha Ngan for the iconic full moon party!
Things to do: Ang Thong Marine National park, Chaweng beach, Koh Pha Ngan
How to get there: There are direct flights from many cities in Thailand to Koh Samui. Alternatively, you can opt for a ferry ride from Bangkok as well.