In today's age and time, we are all driven by social media in some way or the other. And well who wouldn't want their Instagram feed to stand out from the crowd?
Talking of Insta – perfect pictures don't you think Bali tops its position with surreal landscapes of the rice fields, volcanic mountains, colorful markets, lively streets and cafes, vibrant culture and azure water of gleaming beaches making it a picture perfect destination!
Pen down these most #instaperfect places to add to your #bucketlist when you next visit Bali:
1) Kelingking Beach – Nusa Penida
Epitome of beauty, just off the coast of Bali lies a secret beach called Kelinking in Nusa Penida.
A haven for Instagrammers to spoil their feed with selfies from the cliff point with mesmerizing views at the backdrop!!
PS: The adventurous souls out there can consider hiking down to the beach and lose yourself with the wind in your hair, gleaming white sand under your feet and the gushing sounds of the emerald colored ocean!!
#notforthefainthearted
2) Banyu Wana Amertha Waterfall
Welcome to paradise! Not very well known among the tourists, Banyu Wana Amertha Waterfall works as a perfect location to capture a lot of enthralling photos without any one photo bombing. Additionally this spot works ideal for some peace and serenity as you unwind on the rocks with the sound of pure nature all to yourself!
3) Wanagiri Hill
Well we all know the famous Wanagiri Hill has literally won the show on Instagram with its cheesy and fairy-talish spots created especially for tourists. So this place is typically  crowded with tourists but totally worth it. To avoid crowds it is recommended to head down during sunrise and have the place to yourself.
4) Lempuyang Temple
Looks nothing less than gates of heaven, this temple has become another popular spot for Instagrammers over the recent years. Be ready to put your leg muscles to test as you have over 1000 steps to climb. But once you reach this paradise, you will be rewarded with glorious views of Mount Agung in the background, especially during dawn.  #WorthTheSweat!
5) Ubud Bali Swing
Just as dreamy as it looks, the Bali Swing has now become one of the most popular stop spots for those looking for insta perfect views of Balinese jungles, lush green rice paddies and the gleaming river flowing just below your feet! It is also best to go in the golden hours of early mornings or late evenings with the soft light for that superlative picture effect. Happy snapping!
6) The Sacred & Secret Canyon of Sukawati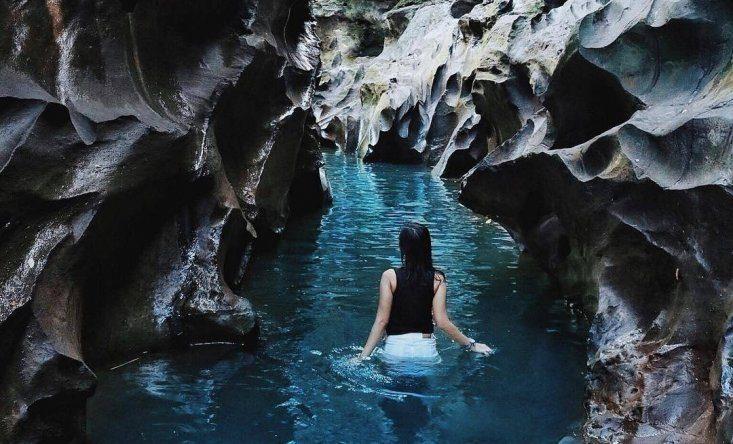 Not sure if the name "Hidden Secret" canyon applies too well these days in the age of social media. However this "secret" canyon is incredible and upon visiting this place you will understand why it hasn't been kept a secret. It is a beautiful gorge formed by the powerful waters that run through it during monsoon. With its unusual rock formations and amazing tropical setting, this place in Bali is every nature and adventure lovers' paradise. The setting will make you live the thrills of Indiana Jones movie as you are completely surrounded by exotic flora and fauna and sounds of the beautiful Balinese jungle.
What you need to know before visiting:
You will need a local guide to visit this place.
Be prepared to get wet. We are sure you would want to take plenty of snaps here. A waterproof camera or a Go-Pro or phone secured in a waterproof case would be ideal.
The guides usually trek barefoot, however it is recommended to carry reef shoes or floaters so that you don't end up hurting your feet with the uneven rocks.
After completing the trek, it is possible to use a basic shower back at base so you may want to bring along a travel towel, soap and a change of clothes which you can store in the lockers.
7) Tibumana Waterfall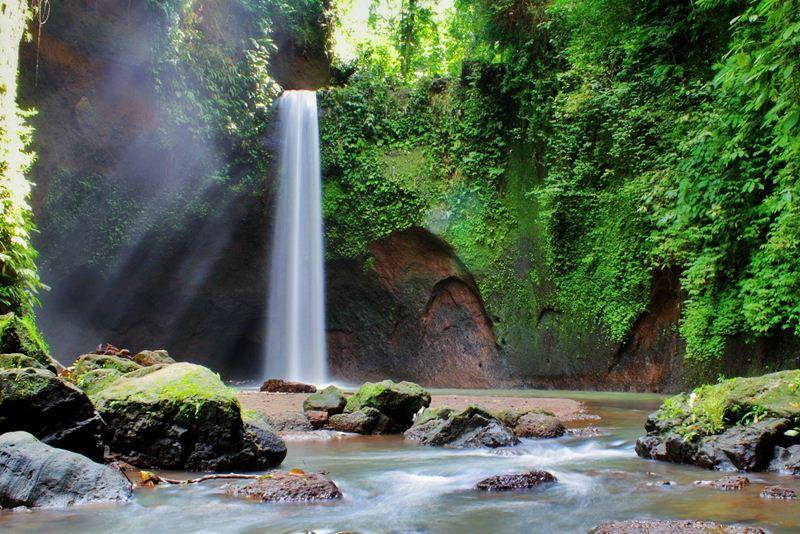 Chasing waterfalls is a new thing when in Bali. Well why not? Bali has so many beautiful waterfalls that can fill our Instagram feed with so much of exquisiteness inspiring us all to be one with nature. Tucked in a jungle, this place is ideal if you are looking to cool off for the day, fancy an adventure or take pictures on the insta-famous rock.
8) Banyumala Waterfall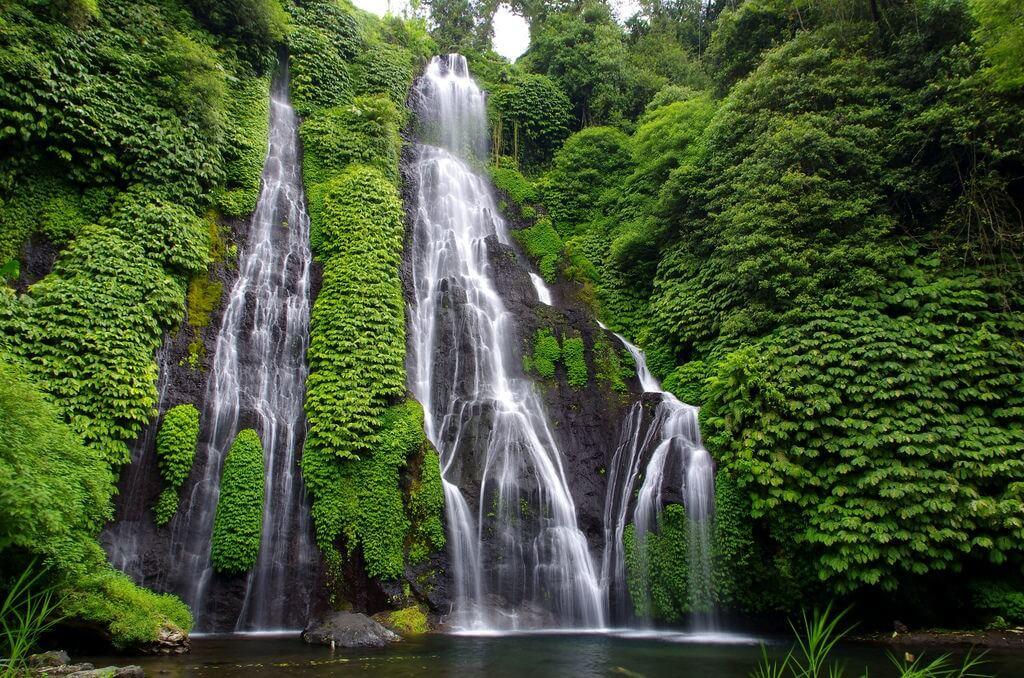 If you are visiting the famous temple Puru Ulan Danu, a trip to Banyumala waterfall works as a perfect 20 minute drive from here. A creepy 10 – 15 min descending hike through the rich green valley will lead you to this cascading waterfall that will force you to mesmerize at the sight. One can take a refreshing dip in the crystal clear pool to escape from the heat of Bali.
What you need to know:
The road to Banyumala Waterfall is quite bumpy.
The rocks in the water can be quite hard and sharp on your feet. Hence proper sandals/floaters or water shoes recommended.
There is also a changing stall at the waterfall for you to change after a swim in the water.
0